Ways to help
Make a financial contribution All the income of Children In Crisis is derived from financial contributions made by private citizens and businesses. Your gift, whether large or small, is very important. We keep donors informed about how their gifts are used with reports, photos, and letters from recipients. more ...

Make an in-kind contribution We welcome contributions of supplies and material aid from businesses and manufacturers. Examples include: hospital equipment, children's beds, medicines, clothes and shoes, toys, blankets and household items.

Artist Participation Through donations of their work artists can help to raise funds and awareness for the work of Children In Crisis. We have organized many benefit exhibits in the US and Europe. more ...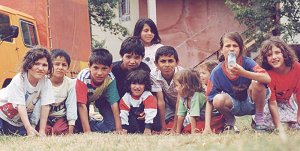 Tell others about Children In Crisis One of the best ways to build support for our work is to tell others about us! Share your interest in us with your friends and colleagues. Distribute copies of our brochure at your church group. Hold a fund raising party in your home or community.

If you can contribute in any of these or in other ways, please contact us.
back to top